A Tale of Two Toms

Randy Harrison and Bill McCallum share the plum role of Tom Wingfield in The Glass Menagerie at the Guthrie.
Posted by Michael Portantiere on theatermania.com; Jan 23, 2007.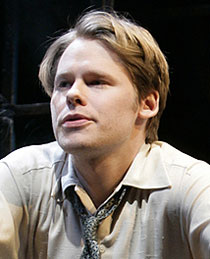 Randy Harrison in The Glass Menagerie
(© T. Charles Erickson)
read more
Harrison, whose stage credits include the Berkshire Theatre Festival productions of Amadeus and Equus, is delighted to have a go at Tom. "I've been in love with this play since I was a young teen," he says. "They did it at my high school in Georgia, but I didn't get cast. That production was the only one I've ever seen -- but the play is so brilliantly written that, when you read it, you immediately understand what the characters are experiencing and fighting for. And it's so fluid that it feels so different every time we run it. I'm excited that we have a nice, long run, because it's going to be great to live in this play for a while."
Of the two-Tom concept, Harrison remarks: "It's fascinating, and I definitely think certain things about the sсript are illuminated that aren't always clear when it's done as written. Bill McCallum and I look a lot alike, and we have a few moments of simultaneous speech to help tie us together. There are also moments when he's observing the action. I think the audience is more aware that the play is this person's memory, and that there's some distance between where is now and what he's remembering."
read more
@темы: 2007, The Glass Menagerie, theatre