`Equus' star prefers the stage to TV work, Talking about life on stage, on television
by Steve Barnes from Times Union [July 17, 2005]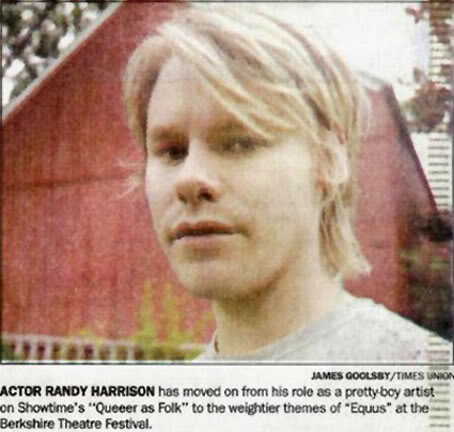 `Equus' star prefers the stage to TV work
STEVE BARNES Senior writer
Section: Arts-Events, Page: I1
Date: Sunday, July 17, 2005
Randy Harrison doesn't want to talk about "Queer as Folk."
Although he has co-starred since its inception in the groundbreaking Showtime series about a group of gay men and lesbians in Pittsburgh, Harrison has nothing in particular to say about "QAF." "It's over," he says, the first of many such variants Harrison will utter during a two-hour conversation over sushi in a Great Barrington, Mass., restaurant. He says, with a sense of completion, "I had a wonderful time, but I'm done with it." (He wrapped up shooting "QAF" 's fifth and last season in March; the series finale airs July 31.)
Rather than discussing Justin Taylor, his pretty-boy artist character in "QAF," Harrison is eager to spend time analyzing Alan Strang, the troubled teen he portrays in the Berkshire Theatre Festival's production of the Peter Shaffer drama "Equus." The play runs through Saturday on BTF's main stage in Stockbridge.
First of all, Harrison says, "The play is so much more substantial than the show."
Realizing the magnitude of his understatement, he adds, " `Equus' is one of the most significant English-language plays of the past 30 years. Anybody who hasn't seen it or read it, needs to, if they care at all about theater or literature."
The same cannot be said of "Queer as Folk." Though sociohistorically important as the first American series to focus on fully rounded gay characters almost to the exclusion of heteros, the series amounts only to an adult soap opera. It's more notable for steaminess than thrilling dialogue or thematic profundity.
The shocks of early "QAF" seasons derived primarily from the novelty of seeing, on TV, soft-core sex scenes between two (or more) men; after characters ventured into a bar's backroom for grunt-and-moan sessions with anonymous hunks for the umpteenth time, "QAF" began to feel repetitive.
The play's the thing "Equus," in contrast, even 32 years after its premiere, maintains the power to electrify and challenge audiences. Shaffer's masterpiece uses a horrifying central event to examine our capacity for passion, worship and pain. As the play opens, Alan, Harrison's 17-year-old character, is brought to a mental health facility for treatment by Martin Dysart, a psychiatrist. Alan's crime: blinding six horses with a spike.
Delving into Alan's mind causes Dysart to confront his own - and society's - spiritual atrophy, the result of a consumer culture that tolerates only enervated conformity. Dysart discovers that the boy, who worked part time in the stables where the attack occurred, would take a certain horse out for occasional night rides. Those jaunts functioned as the centerpiece of an elaborate ritual of exaltation constructed by his anguished psyche.
Dysart, who endures a loveless marriage and is vitalized only by carefully planned annual vacations to Greece, says, "That boy has known a passion more ferocious than I have felt in any second of my life. And let me tell you something: I envy it. ... I watch (my wife) knitting, night after night - a woman I haven't kissed in six years - and he stands in the dark for an hour, sucking the sweat off his God's hairy cheek!"
Says Harrison, "The play's about so much, it's hard to talk about it."
Relevant today He instead makes a case for why it matters: "I think the play is so current, maybe even more than when it was written. I look at consumerism and popular culture, I look at the rise of fundamentalist religion, I look at everything happening in our culture, and I think the play is completely relevant today."
He continues, "People today don't connect with things that are greater than what you can buy and what celebrity you're obsessed with, and because of that we're spiritually frustrated. We're entrapped by the shallow (strictures) we place on our lives and our minds."
The richness of the material in "Equus," and the chance to play a character as complex as Alan, prompted Harrison to pursue the role despite the brevity of BTF's run. (Excluding previews, there are just 11 performances.)
"The play is something I've wanted to do forever, and it's performed so rarely that this might be the last time I could do the role," he says.
Harrison is 27 but looks much younger; his being cast to play 17 strains no credulity. (Concidentally, when the actor started on "QAF" his character was also 17, which added some scandal to his character's sizzling sexual initiation.)
The length and difficulty of Alan's role requires the experience of years, says "Equus" director Scott Schwartz.
"Randy's very talented, but he's still had to work very, very hard," says Schwartz, who promises that Harrison will be "marvelous" as Alan. Also in the cast are Victor Slezak, a character actor with two decades' worth of stage and screen credits, as Dysart; and Roberta Maxwell, who is a judge in the current production but originated the role of Jill, Alan's would-be girlfriend, in the original Broadway production of "Equus" three decades ago. (Anthony Hopkins was Broadway's first Dysart, followed by Richard Burton, who also was Dysart in the unfortunate movie version.)
Feeling confident Harrison says the challenges of playing Alan excite rather than intimidate him.
"It's one of the biggest and technically hardest parts I've done onstage, but I feel completely ready to take it on," he says. "I'm old enough, I know the play, I've thought about it, it's been in my subconscious for years, and I feel the confidence to do it."
He was more daunted when he started shooting "Queer as Folk." Mere months after earning his theater degree from the University of Cincinnati College-Conservatory of Music and moving to New York, Harrison was cast in "Queer as Folk." Although a stage veteran, he had never before worked in front of the camera.
Early in the show's run he watched his performance as Justin in dailies - raw footage of a scene after it's been shot - and in finished episodes. That practice quickly stopped.
"I haven't seen the show in years," Harrison says.
"Pretty quickly I was comfortable with what I was doing, and it was redundant to watch the show. There was so much of the same material - it was so familiar, I'd done it before - that there was no purpose to watching it," he says. "So much of acting, for me, is becoming less self-conscious; to spend an hour a week watching work I did (months before) wasn't helpful to me. I enjoyed the show, enjoyed my work. It's done. I've moved on. I had to move on."
Artistic value These days, he considers himself a New York stage actor, auditioning against thousands of other 20-somethings for desirable roles. He just happens to be semi-famous and in the enviable position, courtesy his "QAF" salary, of being able to buy an apartment and chose parts for their artistic appeal, not just to pay the rent.
"I made more money than I ever expected I would," he says. "I'm lucky. I know it. I never expected to be on television. I thought I'd be a theater actor, work my way up, work my way to Broadway eventually. All of a sudden I'm on TV.
"But now I'm back to auditioning. That's what's important to me," he says. "I don't want to be any more famous than I am. I don't want to be recognized on the street. I don't want to be a leading man in big-budget Hollywood movies. I want to be an actor, primarily on stage, doing challenging, interesting and diverse roles. `Equus' is a good start."

Talking about life on stage, on television
Section: Arts-Events, Page: I4
Date: Sunday, July 17, 2005
Actor Randy Harrison, 27, has played Justin Taylor, a gay artist and part of a group of friends in Pittsburgh, in the Showtime series "Queer as Folk" since 2000. Its fifth and final season, currently airing, concludes July 31. Locally he is co-starring in "Equus," running through next weekend at Berk shire Theatre Festival in Stockbridge, Mass.
On the frank sexuality of "Queer as Folk": "It's fake. People think (filming simulated sex) means more than it does to the actors. What you see in the finished show - that's not anything like what the experience was shooting it. It's funny that (viewers) think that they've seen anything, really. I mean, half the time it's not even me; it's other people's body parts."
On why performing theater in the Berkshires is more artistically rewarding than being on a high-paying TV series broadcast internationally:
"It's a safe environment in which to take risks, and that's something you don't have in television. You just don't. Everything on TV's a time crunch, people are manipulating you to get certain things done, everything is about money and time and saying the line this way because that's what the producer wants."
On performing as a summer-replacement actor in the Broadway musical "Wicked" in 2004:
"I had 11 rehearsals and never did it with the cast (beforehand). I'd done it with the stage manager, and I had one rehearsal with some standbys and some understudies. Then I was making my Broadway debut!"
On the future of the "QAF" cast:
"I think we are all looking forward to distancing ourselves from each other - not in a bad way, just different and apart. It's also a trap to get back together, to work together, too soon. We're going to have to establish ourselves as actors separate from our characters. We won't do anything immediately, but we all respect each other as actors, so I would say, yeah, sometime we'll end up working together again - not collectively but at some point individually."
On being one of the few openly gay actors working on TV:
"It wasn't even a choice, really. I never would have been closeted. It's just absurd to me. And it really doesn't matter. I can't imagine myself pursuing the type of career that my being openly gay would prevent me from having."
On ending up as an unintended spokesman for gay causes:
"I've been asked to comment on so many (gay) issues that I have nothing to say about. As an individual, I do believe in those things, support them, but I'm not a spokesperson. I don't want to be a spokesperson. It's never a position I wanted to be in or asked for. I've gotten definitely way more offers to do appearances to make money for certain (gay) organizations than I have job offers to be an actor, which is terrible."
- Steve Barnes
@темы: 2005